Another Summer Come & Gone
Another Summer Come & Gone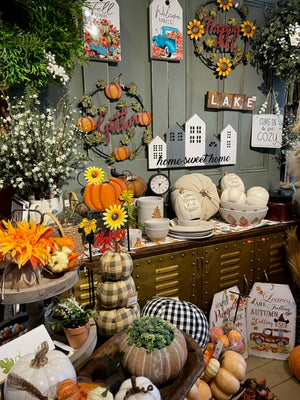 That's a wrap on another summer as we cruise into Thanksgiving weekend. We want to thank all our amazing customers who support us and make our day with your visits.
To celebrate this long weekend & clear out stock, we have lots of items on sale:
- Fall Decor 20% off
- Lighting Fixtures 40% off
- Select iron hardware, garden/summer decor and some random fun stuff 40%     off (Make sure to look for the red sale stickers!!) 
- There are also two full racks of sale clothing that are 40% off
With the colder weather moving in, the lower building (barn) will only be open on weekends now until the snow flies, so be sure to check it out before it closes for the season. The store, however, continues to operate 7 days a week from 10am to 5pm every day except Sunday when we close at 4pm. 
We are excited to be unpacking new products daily, you never know what you will find. We are also restocking your favourite products.... the most popular items, including candles will soon be back in stock! We have lots of mittens and toques to keep you warm when the snow comes. Vintage Apparel Hoody's are also a big hit this time of year, young or old everyone should have one so treat yourself or a friend to one today. Fall Neon Buddha and Cutloose have arrived, as well as many other sweaters, pants, cozy socks, cute vests and great new purses to get you through the winter. 
With Christmas fast approaching we are excited to say that we have started unpacking Christmas decor and gifts! We have lots of new products, and as you know we just can't wait to start decorating the store! But in the meantime, enjoy the fall colours and have a wonderful Thanksgiving. 
From all of us at The Old Tin Shed, be safe, be well, and see you soon. 
* Weekend Hours - Open: Saturday 10am - 5pm
                                            Sunday 10am - 2pm
                                             Monday 10am - 2pm