Summer Has Arrived
Summer Has Arrived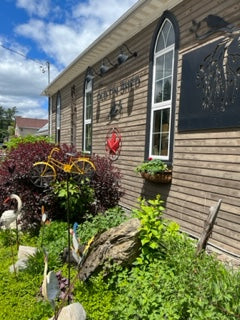 Summer has arrived – and we are so ready, aren't you!!
To kick start the summer, The Old Tin Shed is hosting a MASSIVE tent sale out back. With discounts from20 to 60 % off old stock, wooden windows, signs, clothing, Christmas items and so much more!
Come visit us in Bancroft and check out the new studio all set up with discount items, the salvage area and barn will also have more discount items. Join the festive atmosphere, it is going to be a blast.
Sale items include:
Everything set up in the new studio will be at least 50% off!
Neon Buddha fall sweaters will be in the studio at 60% off. Most are small but like the glass
slipper, worth trying on!
Christmas items will be 20% in the back of the barn
Old windows will be $5 to $10! We have tons if you are building anything
The store itself is well stocked with our favourite items, and lots of summer goods:
- Signs, signs, and more signs
- Our new iron shipment has arrived, and we have restocked most items
- Summer clothes – shorts, skirts, skorts, and dresses
- Chocolate Fraktals for the graduating student!
- Bean Stock lotions and soaps handmade in small batches
- Roothams preserves and chutneys from Guelph, are the perfect hostess gift
- Local honey and maple syrups are perfect for summer breakfasts
- Cards by Maureen Raby photographer as well as Hopper water colours
   And of course, we all love our candles!!
The gardens are blooming, and the plants are looking lovely, for lovely photos. Take a wander around the pond and gardens. Book the girl friends and make it a day in town. The patios are open and the other merchants along Hastings are also having sales and fun for the weekend.
Come visit us in Bancroft -The Old Tin Shed is easy to find at 25 Sherbourne Street North and we open at 10 am, seven days a week!