Spring Showers Bring May Flowers!
Spring Showers Bring May Flowers!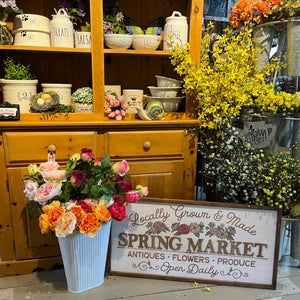 Happy Spring everyone!! We have made it through another long winter, sunshine and warmer weather is just around the corner! New spring & summer stock is starting to arrive, the store is full of lovely spring flowers and scents which are sure to make your day. 
On your next trip in you may see a few changes along with the new stock that is arriving daily. We have relocated our jewelry department as well as our Fusion Mineral Paints. We have worked hard over the winter to improve your shopping experience with these small changes. 
We have also been working on restocking our best-selling items such as our clothing from great brands like Neon Buddha, Silver Jeans (sizes 26-34) & Cutloose, who have delivered once again on beautiful linen dress, pants, tops and of course, jumpsuits! Also new in the clothing room this year are Wanakome hoodies. These hoodies are so warm & cozy and come in a variety of beautiful styles and colours. You can find them on the website under the Clothing & Accessories tab. Our sterling silver rings, bracelets and necklaces have also been restocked. They are sure to please in our new jewelry department. We can't forget to mention our iron hardware! this order will arrive any day and we are so excited to get it unpacked and on the floor for you to see! We have reordered popular items and have ordered many new pieces such as brackets and hooks to spruce up any space. Lots of other products will be arriving as well, like the funny tea towels and coasters, signs for every room and candles! We can't forget all the candles!!
We work hard at getting products on the website, but not everything is listed here. If you can't find something that you may have seen in-store or even on Facebook, please give us a call at 613-332-6565 or shoot us an email at shop@theoldtinshed.com and we will be happy to help! Shipping products is always an option too. With Easter just around the corner, we are happy to ship a little something to your family or friend as a surprise - perhaps a candle, tea towel, and of course, some flowers! 
Speaking of Easter, for the month of April (1st - 30th) 2023 you can use promo code "Spring 20%" (which is only available here) to get 20% off your entire purchase in store! This includes an extra 20% off already discounted items! Be sure to tell this code to the staff at checkout to ensure you get the discount!
The store is open 7 days a week from 10am to 5pm daily except Sunday when we close at 4pm. We will be open every day on Easter weekend, please check the website home page for our holiday hours. 
Thank you for the continued support and we hope to see everyone soon! 
From all of us at The Old Tin Shed, be safe, be well, and enjoy the sunshine!!