Happy Mother's Day
Happy Mother's Day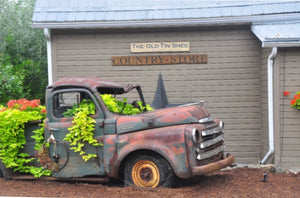 Happy Mother's Day to our heroes out there. What an unusual time, we hope you are keeping well and safe. We look forward to seeing you soon!! As winter comes to an end, we all need a little spring sunshine. We are hoping for some good weather to get back into the gardens and start planting. 


Despite the circumstances - we have been busy at The Old Tin Shed decorating, painting, restocking and restaging inventory in anticipation to re-open soon. One of our new projects is to finish a paint studio in the basement for classes, open houses, private parties and pop-up rentals. It is finished and waiting to be used!! In the meantime, we are here every day except Sunday for remote shopping and porch pick-ups between the hours of 11am and 2pm, or by appointment. Follow us on-line, Facebook, Instagram or check out the website theoldtinshed.com for a variety. We have been posting videos and live chats to keep connected and to showcase what is available in store. If you need some help, don't hesitate to call and we can chat through options. 


Thank you to everyone who has continued to support us by shopping virtually. Don't forget, we wrap and ship to make is as simple as possible. 
New stock has arrived for Spring and Summer and we have our full line of Cutloose linen, Neon Buddha, Leopards and Roses, lots of rusty garden decor, iron, candles, jewellery, and so much more. We can't wait to show you all. When we do get to open, we will have one-way aisles and practice safe distancing as per the government guidelines. Watch for the next stage of opening! We hope to see you all soon. 


Stay safe. Cheers from Kathryn & Geoffery and all of us at The Old Tin Shed.