HOW TO use Reclaim Paint to make it new again
HOW TO use Reclaim Paint to make it new again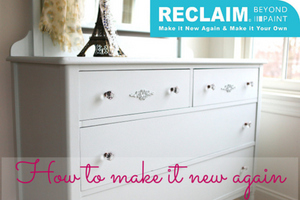 When people discover Reclaim paint by Caromal Colours they get pretty excited. Why? Well, beyond the fact that it has a simply beautiful finish, it's easy to apply on almost any surface including cabinets and countertops, with no sanding, no stripping and no priming needed. And it's available in beautiful colours to suit any decor (click here to see the colours and get some inspiration for your next project). 
Reclaim paint is thicker than the majority of paints on the market, so it's application is slightly different. Here are our tips on getting the perfect finish with Reclaim...
1. Always apply Reclaim on a clean surface, free of wax, oil and grease. Allow the surface to dry completely before applying Reclaim.
2. Make a sample! For example, do one drawer or door to completion before starting a large piece of furniture or a whole kitchen project, just to get a feel for the paint, and how to apply it.
3. Remember, Reclaim is thick on purpose. It's texture eliminates the worry of brush marks, provides a finish that conceals imperfections and offers versatility in application. For a smoother finish, use less Reclaim; apply it thicker for a more textured effect.
4. For flat surfaces we recommend using a 5/8" roller. Simply "mush" or stipple Reclaim into corners, crevices, and hard to reach areas.
5. Allow 3-5 days to dry to seal the finish.
6. Admire your masterpiece!
CARE INSTRUCTIONS
Avoid wetting your surface for 3-5 days after applying Reclaim (and another 3-5 days after glazing, if applicable). Allow to cure for 30 days. Then you may clean surface as needed with a soft cloth and mild soap and water. To make challenging surfaces scrubbable and more durable, coat with your favorite clear coat according to manufacturer's directions. Always test a small area first.