The Next Chapter
The Next Chapter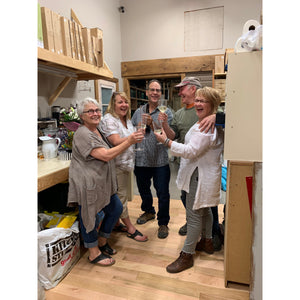 The Next Chapter

Careful what books you read, they may just inspire you to turn your life upside down like Geoffrey and I decided to do this winter! After reading Debbie Travis' Design Your Next Chapter, we started talking about what we aspired to do now that the four kids were all off living their own lives. Retirement seemed a long way away, and we were certainly looking to embrace our northern life as soon as possible. Corporate life was stressful, and included long hours – we knew we were both ready for something new. Usually, we just talk a lot and don't follow through on our "big" ideas, however this time was different.

Once we looked at buying The Old Tin Shed, the idea just stuck and we got more and more excited that this was something we could do together and do well. It was a huge leap of faith and required us to be very, very brave. But what a journey, we are so excited to live in the area and work at something we both love. I have always been a creative designer at heart, moving furniture, painting everything and anything, and taking on projects. Many of these projects did
include the engineering mind and heavy tools of Geoffrey to help actualize them, so this is nothing new for us after 27 years of marriage.
We know we have a lot to learn, but the Whiteheads have been amazing as they transferred over their legacy to us. The Old Tin Shed staff is also a dynamic team that keep the store running smoothly and we couldn't do this without them.
We are celebrating our 1 month of new ownership this Canada weekend and we hope you come around and introduce yourself as we settle into our new life in Bancroft.

Happy Canada Day!! Enjoy with family and friends