Hello Spring!!
Hello Spring!!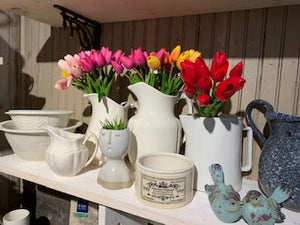 Happy spring everyone!! The snow is smelting and the maple syrup is running here in the north. It has been a long winter, so we are really looking forward to better weather and more visitors. Thank you to all our amazing customers who braved the winter weather. We hope to see everyone again soon. 
Spring is a great time for shopping trips, scenic tours, and ladies weekends - add us to the calendar! The store is open 7 days a week from 10am - 5pm everyday except Sunday's, when we close at 4pm. As Covid restrictions lift, watch for events and activities happening again in Bancroft such as music and theatre. Watch for what's happening the week of Canada Day here at the Old Tin Shed....
While supply chains have been interrupted and some of our suppliers didn't make it through Covid, we are happy to continue carrying our favourite Canadian products such as:
 - Jewelry from Linda Carr Designs made from antique silverware and Oh So Mad Designs
- Beanstock soaps and lotions handmade in small batches
- Local wood charcutier and cutting boards
- Roothams Gourmet Preserves from Guelph, made with fresh Ontario produce
- Local honeys and maple syrups
- Cards by Maureen Raby (photographer) 
- Candles from Country Affair, Little Beausoleil, Whitewater and Joyful Home - which are all made in Ontario
- Canadian clothing designs - Vintage Apparel Hoodies, Gilmour, and Rapz
- Refurbished furniture and crafts made right here in our Bancroft Studio
Trends and designs are changing, moving away from rustic primitive to brighter and whiter country design, therefore our stock is changing. We hope you will find something to inspire your creative self and bring uniqueness to your home, office or cottage. Our antique barn will be open for the May long weekend, and we are excited to restock furniture and unique pieces. Also, the barn will again host the Christmas room, so if you miss it you can shop all year long. 
Come visit us in Bancroft there's lots to see and do here - miles of hiking trails, geocaching, yummy food delights, cute shops, several thrift shops and of course, The Old Tin Shed at 25 Sherbourne St N. It's worth the drive to Bancroft.