Winter Fun!
Winter Fun!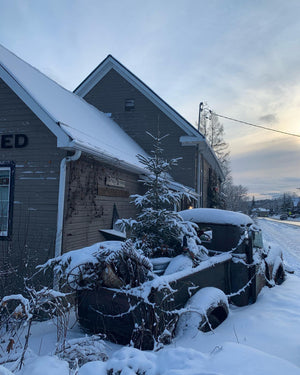 Looks like we are starting to come out of the deep freeze in more ways than one!! January chills are turning into February sunny days and Covid restrictions are lifting. We are extremely happy to be moving along!
We wanted to give thanks to all our amazing customers out there who continue to support us. You make our day. 
Winter is a great time for shopping trips and ladies' weekends - add us to the list of things to do in Bancroft! We are here for you. The store is open 7 days a week from 10am - 5pm except for Sunday's when we close at 4pm. If you're looking for things to do around the area, checkout the Cottage Country Lifestyle magazine offered for free in stores: https://issuu.com/cottagecountryfreemagazine/docs/cottagecountry_winter2022_online
Spring products were all ordered a long time ago but are starting to arrive weekly now. We are always excited to see what's new for the season. You never know what you will find in the store as we unpack it all. Unfortunately, we do continue to have supply chain shortages and shipping problems. Fingers crossed things get better!
During the winter months we use the time to restage the store and change things around to better serve you. Pardon the mess as we do so. The good news is, that there will be many sales going on. Featured in the foyer, we have jewelry on sale for 75% off!! As we clean out our cupboards, other items will be added to our sales. Looking forward to the Family Day weekend - all clothes will be on sale for 25% off (February 12 - 22 2022). This excludes the "Vintage Apparel Hoodies"....sorry about that. In the clothing room, we also have two full racks of clothes on sale for 40% off. Don't miss out as we clear out!!
Come visit us in Bancroft as the economy re-opens. There's lots to see and do here - miles of snowmobile trails, walking trails, skating, yummy food delights, cute shops, several thrift stores and of course The Old Tin Shed at 25 Sherbourne Street North. We can't wait to see you!