Lazy Bedz... Coming Soon!
Lazy Bedz... Coming Soon!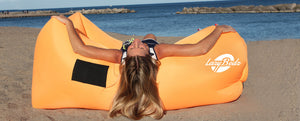 Every summer is filled with time in the sun, backyard barbecues, and fun at the beach. With every outing and event, we're dragging around our lawn chairs. Why not swap those out for a portable, comfy lounger? Lazy Bedz are on their way to The Old Tin Shed as we speak!
What are Lazy Bedz? Well, they are comfy chairs/beds that are stored in a little bag that you can throw over your shoulder. When you arrive at your destination, you just fill it up by dragging it through the air! Life has just gotten so much easier, and comfier! Just watch the video to discover how it works.