Tis' the Season.... Yard Sale Season!
Tis' the Season.... Yard Sale Season!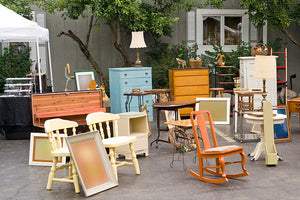 Are you a yard sale junkie? I know I am! Maybe it's because I was dragged around to yard sales before I even knew what the word "sale" meant! When you find that pre-loved piece of furniture or antique, don't turn it down because you don't like the finish. We have the perfect solution. If you haven't already heard of our Caromal Colours paint, come talk to one of our sales staff. With many colour choices, and a variety of possible techniques, your piece will be stunning!
NO sanding or stripping is necessary, and the paint covers any surface, as long as it is oil, wax and grease free. That means you can paint on glass, metal, previously painted surfaces, and even items coated in varathane. 
Does this look like your bathroom vanity or kitchen cupboards? Are you looking for a fresh new look?
See what one of our customers did using the Off White Caromal Colour Reclaim paint. With Caromal Colours, you can completely renew any furniture or cupboards. Drop in and and share your project, we'd be happy to help you!
 -Moryah