You are going to LOVE this! 'A Primitive Place,' available at the Old Tin Shed!
You are going to LOVE this! 'A Primitive Place,' available at the Old Tin Shed!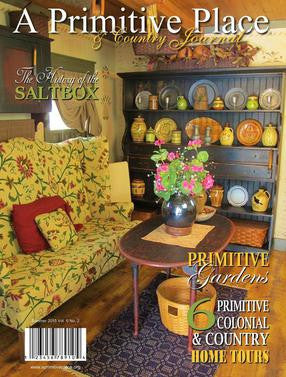 Do you love to decorate with primitives? Are you a collector of primitive pieces? Do you get inspired by seeing others' primitive décor? If primitive is your passion, it's time to break out A Primitive Place magazine. If you know this publication, you'll get excited just talking about it. If you don't know it…well…do we have a treat for you!
This is an American publication that has become very popular in primitive circles, in the U.S. and Canada. It is published quarterly, and is one of those magazines anticipated each season. Inside the cover, you will discover articles by a variety of writers, featuring homes throughout the states. The photos and articles will inspire and inform. Primitive furniture; lighting; pottery; wooden bowls; linens; signs; tin-ware; candleholders, are all to be discovered between the covers of this inspirational book. More often than not, gardens are featured as an extension of the interior of the homes. Before you reach the back cover, you will also discover a few pages of tasty recipes for some down-home comfort foods. If you weren't passionate about primitives before, once you read this magazine, you may get hooked!
If you are in the U.S., a subscription can be purchased from www.aPrimitivePlace.org. If you live in Canada, subscriptions are no longer available from the magazine company. However, at The Old Tin Shed, we stock a few of each issue, and will ship them to you via Canada Post. Log onto our website www.TheOldTinShed.com to order yours. If you sign up for our newsletter (thru our website) or LIKE our Facebook page, you will get a heads up when the current issue is available.
Currently, the Summer 2015 edition is available. Order yours today…and BE INSPIRED!